Holographic labels are labels with 'moving' captions and they are exceptionally clear
2021 06 30
Market tendencies require product manufacturers to continually be exceptional. If we want to be noticed, we have to capture the consumer's interest. Lacquer, relief, designs, colors. What more?  This time, let's talk about holographic labels. The luxurious glow that they create instantly sets the product apart from others in the shop windows.
What are holographic labels?
Special technology is used to produce the label's holographic effect. That is, a special film is pressed evenly against the material in order to apply the ink. After a while, the film is removed, producing a rainbow effect. Thanks to this effect, your design will glisten. In addition, the labels are thus protected from scratches or washing off, and the initial design image is preserved. These labels do not need to be laminated.
There are several technologies, but we use the most sustainable one on the market. It enables us to reuse raw materials to produce a holographic effect.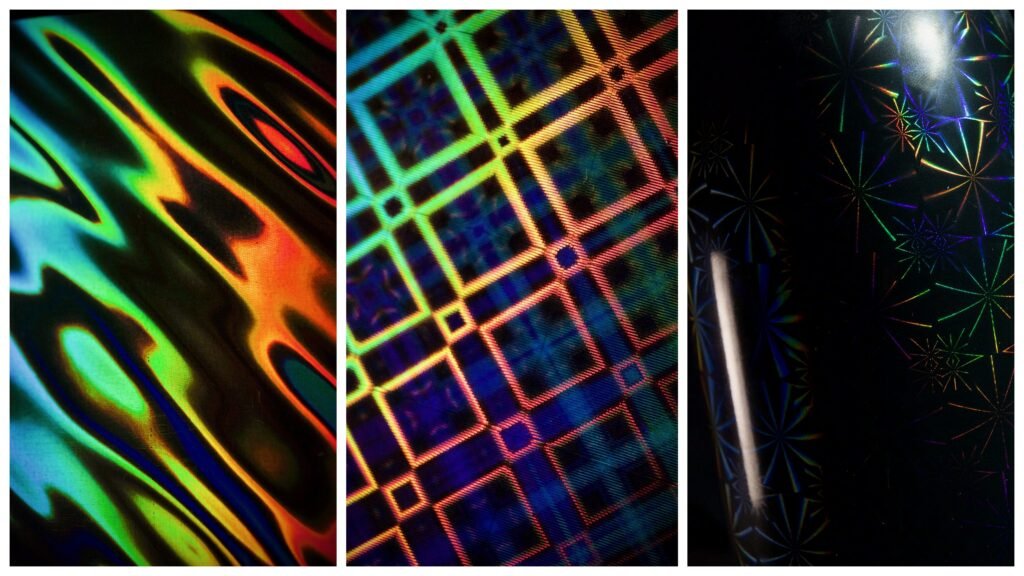 Advantages of holographic labels:
They are suitable for adhesive and shrink labels and flexible packaging.
A variety of 3D holographic effects can be achieved for a variety of designs.
With this technology, you can produce a hologram of full or partial design.
They enhance the visual impression of the product and give it authenticity.
Re-processed raw materials are used.
The raw materials are re-used again. Because we re-use raw materials, our production is not limited to a certain number of copies, i.e. if your needs unexpectedly increase, we can produce more by re-using raw materials. This does not make difference to the quality of the effect.
When this technology is used, your label or packaging is not laminated with any additional film or foil, so this process does not affect its recyclability.
The UV and EB (electron beam) printer that we use is rather more sustainable in terms of quantity of CO2 emitted during the production process (compared to spirit-based or water-based inks).
Holographic labels are becoming increasingly popular in the field of product decoration for a very simple reason: the shiny material gives a whole new visual impression to products in the fields of food, beverages, cosmetics, chemical car care products, household care products and others.
We invite you to get to know today's most popular methods of decorating labels by having a look at an article we have prepared and called Label decorating possibilities.
If you are interested, contact us: we will dedicate time to understand your needs and choose the best decorating solution for your product.
Contact us by phone +370 650 86 390 or by email at miroslav.brazulevic@pakmarkas.lt