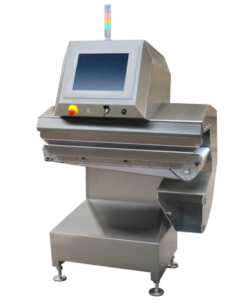 X-Ray inspection equipment
X-ray inspection equipment is used in industry to detect and remove unwanted solids from a product: metal, glass, hard plastic, bones, stones, etc.
X-ray systems can help find metal when metal detectors cannot – a metal detector cannot find small metal particles in metalized packaging, and X-ray equipment copes with this task quite efficiently. We need to know what tasks have to be solved, and we will offer the most optimal option.
Contact us by phone +370 656 711 48 or e-mail us at marius.martinaitis@pakmarkas.lt now and we will advise you and help you choose the most suitable option.