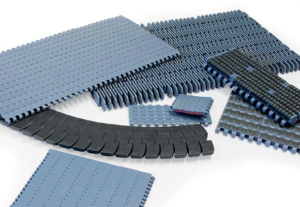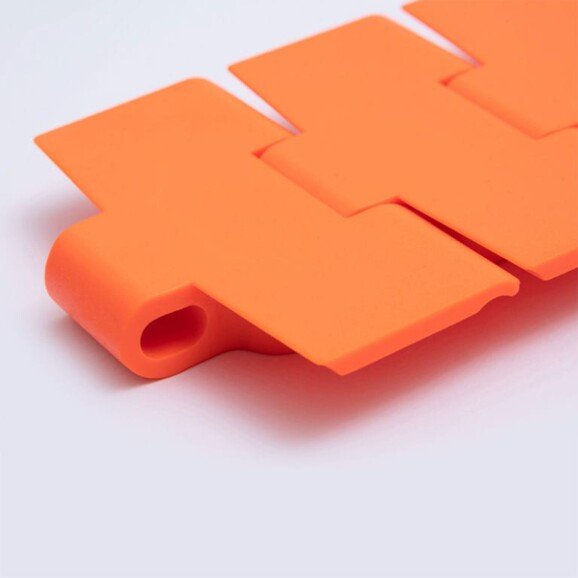 Conveyor belts
If you work in the beverage or logistics industry using bulky products or packaging, we offer you modular belts up to 1,500 mm wide.
Conveyor belts directly from the manufacturer Movex.
Movex introduces belts made of a special LFA blend (low friction acetal) with a low coefficient of friction, which is perfect for high performance and saves you energy resources.
An indispensable helper has been developed for the beverage industry from PFX material, which completely eliminates any lubrication in the line and conveyors run in the dry way. The PFX material also protects against dust during operation in extreme conditions and maintains low friction at high forces at all times, thus ensuring a longer service life. Furthermore, the fluorescent colour of PFX products is clearly visible, creating safe working conditions.
PFX belts are a new generation replacing stainless steel conveyor belts of old standard. They save energy resources and increase the efficiency of the existing line.
TYPES OF PFX CONVEYOR BELTS
In our range you will find the following PFX belts:
Modular conveyor belts
Modular belts from new PFX material (without lubrication)
Next generation 553 FLEXTOP modular belts
Next generation 551 PRO LBP accumulation modular belts
Next-generation 550 FlightTop modular belts
See Movex catalogue for more useful information
COMPARISON OF PFX AND METAL CONVEYOR BELTS
Let's compare PFX and metal conveyor belts in terms of their efficiency, noise reduction capabilities, hygiene and environmental friendliness.
Efficiency
Plastic PFX conveyor belts are 3 times lighter than metal belts, resulting in a lower power drive which reduces energy consumption.
PFX belts of our recommended supplier have a significantly lower coefficient of friction, which differs from the coefficient of friction of metal belts by 3 times.
With PFX belts, we recommend using BluLub slider guides, which extend belt service life, maintain lower friction and reduce operator repair time. BluLub slider guides are a highly effective, composite polyethylene material of high molecular weight containing the latest generation of solid lubricants, especially when used with limited lubrication. BluLub products provide high abrasion and wear resistance, require less energy and have the lowest coefficient of friction, improve product stability and reduce wear of sliding/moving parts.
Bright fluorescent orange colour allows the operator quickly noticing problem areas in the event of a product spill, mechanical damage or debris, as well as preventing potential larger problems.
PFX belts cost less than metal belts.
Noise reduction
The use of plastic belts halves the noise emitted by the conveyor, enabling service personnel to work in a quieter environment, especially when working with glass containers.
Hygiene
PFX conveyor belts protect against dust (does not emit metal dust) when working in extreme conditions – these belts accumulate 90% less dust on the surface than metal belts. This creates a more work-friendly environment.
Environmental friendliness
These conveyors manufactured with special technology do not need lubricants or other chemicals for better movement of products on the belt unlike metal ones. PFX conveyor belts are made of a special plastic compound PBT (Polybutylene Terephthalate) with additives, designed specifically to work with a chain or belt with partial lubrication or no lubrication at all, when high speed, performance and efficiency requirements are applied.
It is not necessary to attach special troughs and tanks for the drainage and accumulation of lubricating agents on the conveyors, to use nozzle systems for lubrication of conveyors and to maintain them, therefore the surfaces under the conveyors do not become slippery from lubricating fluids and better hygiene is maintained. There is no need to worry about how and where to utilise used conveyor lubricating fluid without polluting the environment.
ORDERING CONVEYOR BELTS
For more information call +370 685 680 97 or write to valerij.soloducha@pakmarkas.lt. Our specialists will provide you with all the information you need, answer any questions you may have and help you make the right decision.
If you are interested in what conveyors we supply, we suggest you visiting the category Conveyors. If you are looking for other parts or systems or if you are interested in conveyor components, visit the category Conveyor Components.