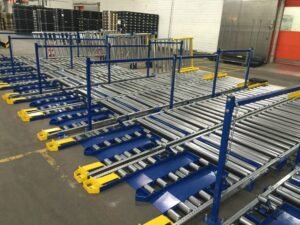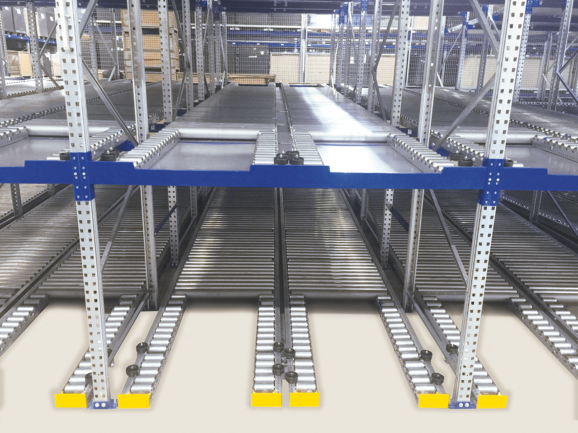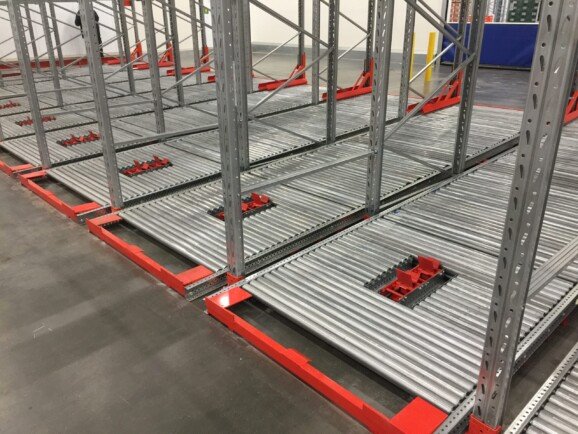 Pallet roller tracks
We sell brake rollers EBT2S which are used for greater warehouse safety.
Occupational safety in the warehouse is given a top priority. For this reason, the engineers at Euroroll have developed the EBT2S brake roller and continuously optimize it over the past 30 years. These rollers control the speed of conveyed goods on the roller conveyor. They stand out from conventional brake rollers by having much shorter reaction and engagement times.
The brake roller (EBT2S) consists of a 3-stage planetary gearing, which presses centrifugal brake discs against the roller body during each rotation – with a brake force proportional to the brake momentum. As such, the brake rollers keep the pallets being conveyed at a constant speed.
Brake roller pitch and the correct type of brake rollers are determined by several factors:
construction and capacity of a roller track;
roll deviation;
characteristics of transported products (size, weight, sensitivity, static shape);
brake roller resistance;
environmental conditions, e.g. humidity, cold or heat.
Recommendations
At least one roller with a brake must be installed at each location of the pallet (in a roller system with a slope), only then it is possible to achieve controlled speed without acceleration and increased force.
The pallet rolling speed (in a roller system with a slope) should never exceed 0.3 m/sec. When the brake rollers are properly positioned, the rolling speed is 0.1-0.2 m/sec.
It is important that the suspension of brake rollers and brake conveyor rollers is properly adjusted according to the weight and slope of the pallet.
Due to the friction between the brake roller and the transported goods (conveyor roller or pallet), a non-slip contact and a constant transport speed are achieved.
Applicable temperature range from -30 °C to + 45 °C. Pallet weight – from 80 kg to 1400 kg.
More information about pallet roller tracks can be found in the Euroroll catalogue.
Please contact us by phone +370 685 680 97 or e-mail valerij.soloducha@pakmarkas.lt and we will help you choose the most suitable roller tracks.