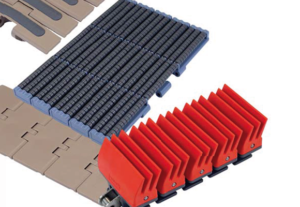 Transportation chains
Our range includes many chains of various widths and materials – from plastic to stainless steel. We are very excited to introduce the next-gen PFX chains and modular belts that do not require lubrication. PFX is a special plastic composite specially designed for chain or belt operation with partial or no lubrication, under high speed, productivity and efficiency requirements. PFX was developed to reduce the friction between the chain and the product as well as the friction of the guiding elements without the use of any lubrication system. Such products also protect against dust under extreme working conditions and constantly maintain low friction under high-power operation, thus ensuring longer product life. Moreover, the fluorescent colour of PFX products is clearly visible, ensuring safe working conditions.
Plastic chains:
a) Straight running
b) Sideflexing
c) Sideflexing (TAB)
d) Accumulation
e) Rubber surface
f) Chains with rubber grips
g) Sideflexing with increased turning angle
h) Sideflexing chains that do not require lubrication
i) Next-gen PFX chains (without lubrication)
Stainless-steel chains:
a) Straight-running chains
b) Sideflexing chains
c) Chains with rubber surface
Contact us by phone +370 685 680 97  or e-mail us at valerij.soloducha@pakmarkas.lt now and we will advise you and help you choose the most suitable option.
If you are interested in what conveyors we supply, we suggest you visiting the category Conveyors. If you are looking for other parts or systems or if you are interested in conveyor components, visit the category Conveyor Components.