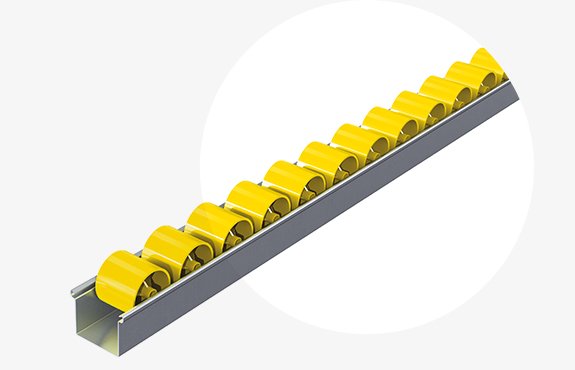 Box roller tracks
Box roller tracks are mainly used for "live" storage systems with continuous movement. They allow safe conveying of cardboard boxes.
Technical information:
this roller system is suitable for conveying cardboard boxes/containers weighing up to 25 kg;
rail rollers are made of impact- and temperature-resistant plastic polypropylene (PP);
rollers are installed in galvanized rails;
3 mm galvanized round steel axle is used for rollers;
it is possible to choose tracks of various lengths from 300 to 6500 mm;
minimum order quantity 250 pcs./length;
the required pitch of the rollers is indicated when ordering;
the standard colour of the wheels is yellow;
the rollers can be used at temperatures from 30°C to +100°C. Not resistant to UV rays.
The following special wheels are available:
Deep freezing design from -30 °C.
Antistatic, black colour.
The permissible temperature range is from -20 °C to +40 °C.
Special colours are available upon request.
Multi-directional rollers are used wherever load carriers, packages, boxes or workpieces are rotated, sorted, guided, etc.
The diameter of the rollers determines the maximum loads:
Ø 50 mm – 100 kg
Ø 60 mm – 200 kg
Ø 80 mm – 400 kg
More information about box roller tracks can be found in the Euroroll catalogue.
Contact by phone  +370 685 680 97 or e-mail valerij.soloducha@pakmarkas.lt and we will help you choose the most suitable components.