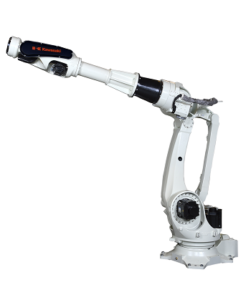 Industrial welding robots
Kawasaki arc welding robots use state-of-the-art technology to rival the quality of a skilled human welder. The robots are typically equipped with arc welding specific software to enable quick and easy programming of the process path. Adaptive welding functionality can be used to modify robot position and speed during welding to fill variable joints. Due to their built-in intelligence, flexibility and high accuracy, these arc welding robots are ideal for a wide range of arc welding applications.
Simple control
Each robot typically has an easily visible and controllable controller with an LCD touch screen. The operator teaches the process path through special arc-welding teaching screens that are designed for simple use.
 Conditions database
During an automated process the operator can change welding conditions and save these changes in a built-in database. Then, the saved conditions can be recalled from the database and reused for another process.
Shorter idle time
A standard dedicated launch sequence function improves arc setup. In case of a welding error, the robot relaunches the sequence function to automatically perform the welding function again and resume operation.
 Manual control
Kawasaki arc welding robots have a one-click arc ON/OFF function that allows operators to easily and quickly turn the welding off and on during the automatic welding process. Such manual control of the arc helps operators to deal with parts-related anomalies.
 Remote programming
Kawasaki offers remote arc-welding software to enable automatic generation of robot programs from 3D CAD data. Kawasaki's KCONG software significantly reduces the robot training time and manufacturing costs.
B-series robots were developed by using spot welding with the help of Kawasaki's advanced technologies and extensive experience in automotive industry. The robots offer wiring along the length of the arm and save space through the use of powerful motors and advanced motion-control technologies. These features reduce the time of developing a production line and carrying out digital engineering tasks. B-series robots are ideal for spot welding solutions.
 High-speed spot welding
Reduced net weight, high-capacity motors and advanced motion control technology make the B-series robots sprinter champions. Such robots are perfect for fast, short-stroke motions and therefore they are ideal for spot welding. Improved sequencing of servo welding guns as well as improved automatic calibration in order to optimise the acceleration and deceleration of the gun's pace significantly reduce the cycle time and enables maximum performance.
 Space-saving design
Compared to traditional robots with a similar payload, B-series robots have a much narrower housing and occupy much less space. As a result, they can be installed in high-density solutions without hindering productivity. Also, the cable holders inside B-series robots reduce the need for work space even further.
Wide range of work
A B-series robot combines a long arm with better flexibility. Kawasaki Robotics' many years of experience in the automotive industry allows the company to achieve an optimal design of the housing-assembly system.
For more: KAWASAKI_ARCWELDING-SERIES, KAWASAKI_B-SERIES
Contact us by phone +370 685 57931 or e-mail us at  simonas.bauza@pakmarkas.lt now and we will advise you and help you choose the most suitable option.