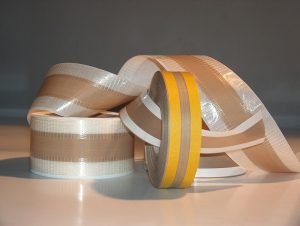 PTFE fabrics and curtains
PTFE is polytetrafluoroethylene (commonly referred to as Teflon). It is a heat-resistant polyfluorovinyl plastic with high hydrophobic and dielectric properties. This material is used in industry very often: for coating press surfaces (by layering or lamination), for coating laboratory table surfaces, cylinders in paper and textile machinery, for non-stick surfaces (to prevent sticking of paint, glue or food), for wire insulation, for coating of vibrating containers or as protective screen (curtain) against hot air in packaging facilities.
PakMarkas company distributes high quality certified Teflon products:
tapes of various sizes (pure Teflon is also available), with reinforced edges, adhesive sides, even with metal fasteners to guide the tape);
Teflon-coated nets;
Teflon spray.
The main properties of Teflon:
temperature resistance from -80°C to +260°C;
thickness from 0.08 to 0.53mm;
non-stick, water and chemical resistant, impermeable, slippery, flexible, easy to clean.
⌂ We have the most commonly used adhesive and non-adhesive Teflon tapes, nets and protective curtains in our warehouse.
Please contact us for more information by phone +370 5 205 2881 or e-mail detales@pakmarkas.lt. Our specialists will provide you with all the information you need, answer any questions you may have and help you make the right decision.