Thinning of plastic is one of the most effective trends in packaging sustainability
2021 04 26
Both EU green policy and consumer expectations are sure to steer business towards sustainability. Is it possible to reduce the amount of plastic used without sacrificing highly functional plastic packaging, which is practically irreplaceable in the food or beverage industry? Packaging experts say the solutions are there and they are effective.
The long-running wave of sustainability will undoubtedly only intensify. Exactly a year ago, the European Commission presented the Circular Economy Action Plan, one of the key instruments of the Green Deal. The goal of circular economy is clear: to reduce waste and consumption of resources.
Companies will face new environmental requirements already this year. The packaging sector is expecting one of the most important innovations in 2022, wherein different tax rates for recyclable and non-recyclable packaging will be introduced. According to experts, the business should already start preparing for this now and think about the composition of packaging that is more profitable to use. If you decide to embark on the path of sustainability, you will have to look for more environmentally friendly solutions, while trying to maintain the functionality of the packaging, the absence of which would make the idea of packaging meaningless.
"Obviously, we should use less plastic in packaging. However, those who want to "abandon" this material should choose alternatives very carefully – hardly any of them will provide the same level of hygienic and physical protection of the product throughout the product supply chain as plastic does. Today a much more rational solution, in line with both regulatory and consumer expectations, seems to be making packaging more recyclable. There are advanced and affordable solutions that can be adapted by manufacturers of various products which are already available. One of them is thinning of plastic," said Virginijus Gumbaragis, CEO of PakMarkas, a leader in product labelling and engineering packaging and bottling equipment company in the Baltic States.
For many years now, PakMarkas has been delving into packaging sustainability issues and looking for innovative sustainable packaging solutions in cooperation with manufacturers.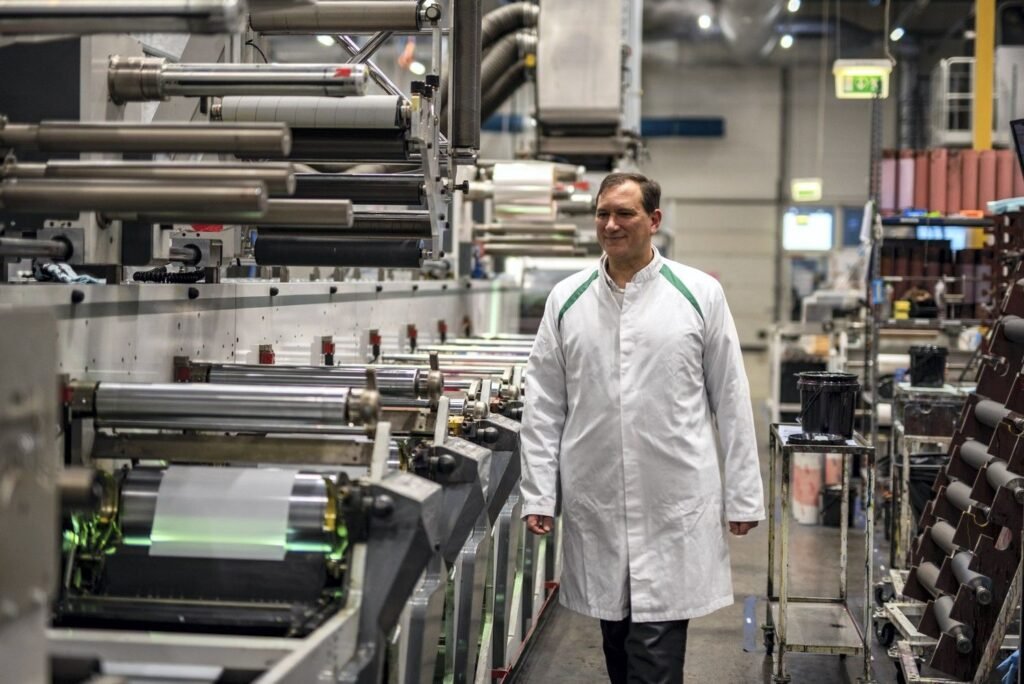 The founder and CEO of Pakmarkas Virginijus Gumbaragis
Consumers do care, but there is still a lack of information
According to Gumbaragis, both packaging manufacturers and businesses are looking for more sustainable solutions not only to comply with the European Green Policy, but also due to significantly increasing pressure from social groups. His position is supported by Edvardas Kavarskas, a partner at Étiquette, a packaging design agency. According to him, the attention of Lithuanian buyers of packaging materials and sustainability measures has been growing significantly as of late – taking a look around the public space will suffice to support this fact. For example, nearly thirty thousand members joined Zero Waste Lietuva, a Facebook group of like-minded people, in the period of three years.
"However, there is still a great lack of education. For example, people share the image of a "paper" packaging for ice cream, but do not realise that it is not pure paper but a composite packaging. It consists of layers of paper and plastic. This kind of "sandwich" is much more difficult to process than packaging made of monomer (for example, PET or PP). There is still a lack of awareness that although biodegradable plastics or packaging marked with the EN13432 standard and having a paper-like appearance sound very eco-friendly, they are intended for industrial composting, the infrastructure of which has not yet been developed in Lithuania. These products only mislead buyers," noted the design expert.
  According to Kavarskas, when it comes to packaging a more responsible business approach should be taken, as well as interest in the composition of materials. He suggests to choose the packaging designs and materials based on the Life-Cycle Assessment (LCA) of the product. This method not only takes into account the types of raw materials from which the packaging is made, but also includes many more components that are important for designating packaging as "sustainable".
"Having considered the raw material extraction, production, logistics and other aspects, it may so happen that bamboo packaging (thus, very environmentally friendly), delivered from half way across the world, will turn out to be less sustainable than locally produced plastic" Kavarskas explained.
Thinner plastic – the same durability
Experts note that in the past, when choosing a product, the consumers were looking for rigid and strong packaging – it was associated with the quality of the product. According to Švickis, Product Development Specialist at PakMarkas, in order for the packaging to match the image of the brand, manufacturers wanted a thicker film.
However, it is now not rigidity of packaging but its recyclability that is increasingly becoming a consumer priority. The fact that recycled plastic has been used in production of packaging, or that much less plastic has been used to package a product is more desirable. The attitude of responsible producers is also changing – sustainability now has a clear place in the strategies of business leaders.
"When it comes to the sustainability of packaging, we work closely with manufacturers and see how business leaders optimise the quantity of materials used, replacing combined material packaging with monomer materials and thinning film. In my opinion, a breakthrough would occur if not only scientists, but also every business would choose packaging design and materials according to the life cycle assessment, and customers would be better informed about it," emphasised Kavarskas.
Manufacturers can react to EU policies and public opinion promoting a reduction of plastics in two ways: by abandoning plastic packaging or by using less plastic. This is possible with technologies that allow the plastic to be thinned without compromising its functionality. One of the options is the elimination of laminated film from the packaging. This technology is successfully applied by PakMarkas specialists.
"With the complete abandonment of plastic, packaging faces many challenges that cannot always be solved. Therefore, we suggest not to eliminate plastic altogether, but to thin it. When the laminated film, which forms the top layer of the packaging, is eliminated, the print is applied directly on the monofilm (BOPP). This technology allows us to produce packaging while maintaining print quality during packaging," noted Švickis.
Abandoning the use of laminates allows to solve two pressing problems at the same time: the packaging becomes recyclable and its weight is reduced. Thus, it is not only more environmentally friendly, but also reduces the packaging tax, as well as becoming suitable for reuse.
"We often hear that the amount of unprocessed plastic in the world is growing. On the other hand, plastic packaging plays a critical role in the product supply chain and helps reduce food waste. Thus, the question is, how to place less plastic on the market without sacrificing disposable product packaging? Thinning of packaging is one of the best answers in this situation," assured Švickis.
Each solution will, of course, remain individual, so the most suitable packaging is best created in collaboration with manufacturers, packaging experts and designers. Today, when raw material manufacturers are already well advanced, PakMarkas and its non-standard technological solutions can be very useful for customers who want to reduce the amount of plastic used and replace composite packaging with recyclable ones. "We strongly invite manufacturers to create a more sustainable environment together and get involved. Write us, ask questions, share insights and experiences, and together we will find the best solution for your product," encouraged the PakMark expert.