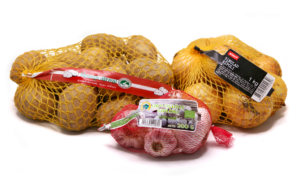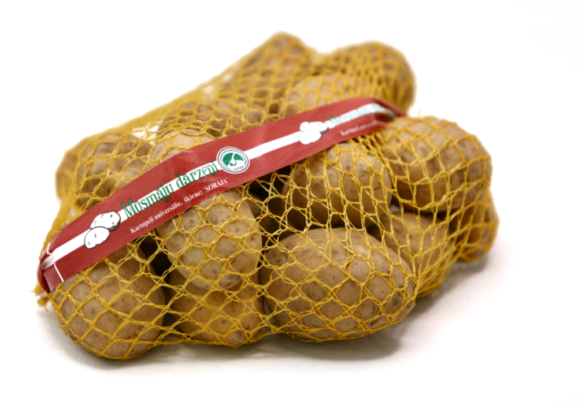 Mesh bag labels
These are durable snap-on labels used to label fresh fruits and vegetables packed in mesh bags.
You can often see them in grocery stores on products packaged in mesh bags such as oranges, mandarins, onions, garlic, mini cheeses, potatoes, etc.
They are non-adhesive and therefore do not stick to the product. The labels are snapped on to the packaging areas with a metal clasp closing the bag. Sometimes such labels not only perform a labelling function but are also used as a handle to lift the bag.
Properties of non-adhesive labels:
can be printed on one or both sides;
available in several thermal (heat sensitive) materials;
durable and tear-resistant material;
suitable for products used in humid or dusty environments;
available in various sizes and widths; printed in up to 8 colours;
made in BRC certified production facilities.
One side of these labels is used for advertising – it contains your logo, brand, etc. The other side of such labels is made of heat-sensitive paper. It allows the manufacturer to print the desired product information: date, barcode and weight.
Fruit or vegetable packers often have batching/packaging equipment with integrated label printers. If you do not have an integrated printer, you can also use certain label printers that work according to direct thermal printing. It is important for the printer to be able to detect where the label begins and ends.
The labels for vegetables and fruits produced by Pakmarkas have been tested in real conditions. They reliably withstand the storage and transportation of vegetables and fruits. The thermal layer of the labels is well protected from moisture and temperatures, but at the same time sensitive enough for thermal printing. The print is usually bright and contrasting.
For more information call +370 5 205 2900 or e-mail to info@pakmarkas.lt and together we will discuss how to apply non-adhesive labels to your products.
Looking for other label solutions? Visit the category: Labels