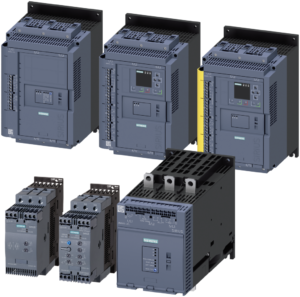 Low voltage components for equipment control
We successfully cooperate with Siemensand offer a wide range of low voltage fully modular SIRIUS and SENTRON components for equipment control.
Motor protection:
Ignition protection systems – rated current – 100 A, reacts up to 1,250 A. Class – 10/20.
Overload thermal relays mounted on the ignition protection system or as a separate element.
Overload electronic relays – rated current – up to 115 A. Protection class – from 5E to 30E.
SIRIUS contactors for rated currents up to 500 A; their voltage control range is from 12 V DC to 600 V AC. Siemens manufactures many different versions of contactors and even more accessories for technical tasks: with additional operating elements (diodes, varistors, RC elements, etc.), grouped reversing programs, with safety ready input ("Safety ready") , with integrated adjustable time changeover function (star-delta) and contactors for working with very specific programs (capacitive loads up to 1,200 A, non-inductive loads up to 2,650 A, etc.).
Intermediate contactors for up to 10 contact groups that we can offer arranged according to your technical needs (each group individually NO or NC). Intermediate relays can be plug-in or freely mounted on a DIN rail (Stand alone); width – only 6.2 mm.
The purpose of monitoring relays is to respond to network parameters such as currents, phase imbalance, motor speeds, efficiency, temperatures (using resistive sensors (sensor reference) or thermocouples), network quality and multifunction time relays (up to 27 time logic functions).
Security technology. Modular safety relays that meet SIL3 safety requirements. Outputs – relay or transistor, time delay functions can be installed. The safety relays are configured using the appropriate software (SIRIUS safety ES) or higher level control systems.
SIRIUS soft starters are divided into three levels according to their functionality into three levels: Basic, General and High (with control screen and Safety ready). According to the launch class, they are classified as 10, 20 and 30 – "Normal", "Heavy", "High". SIRIUS soft starters can be connected with 3 (up to 1,280 A) or 6 (Inside the delta, up to 2,217 A) wires. Local or remote control through higher level control systems.
The buttons are for controlling devices. According to your needs, we can offer reliable Siemens buttons: from illuminated buttons to buttons adapted for communication with AS Interface and IO Link protocols. They can be used to significantly reduce the amount of wires in automated devices by replacing them with just two wires.
⌂ We always have a wide selection of contactors, intermediate relays and buttons in our warehouse.
⌂ We also offer the services of an automation engineer such as the selection of automation components according to the technical task, installation, adjustment and configuration.
Contact us by phone +370 685 680 97  or e-mail us at valerij.soloducha@pakmarkas.lt now and we will advise you and help you choose the most suitable option.