A robot is looking for work
2021 02 17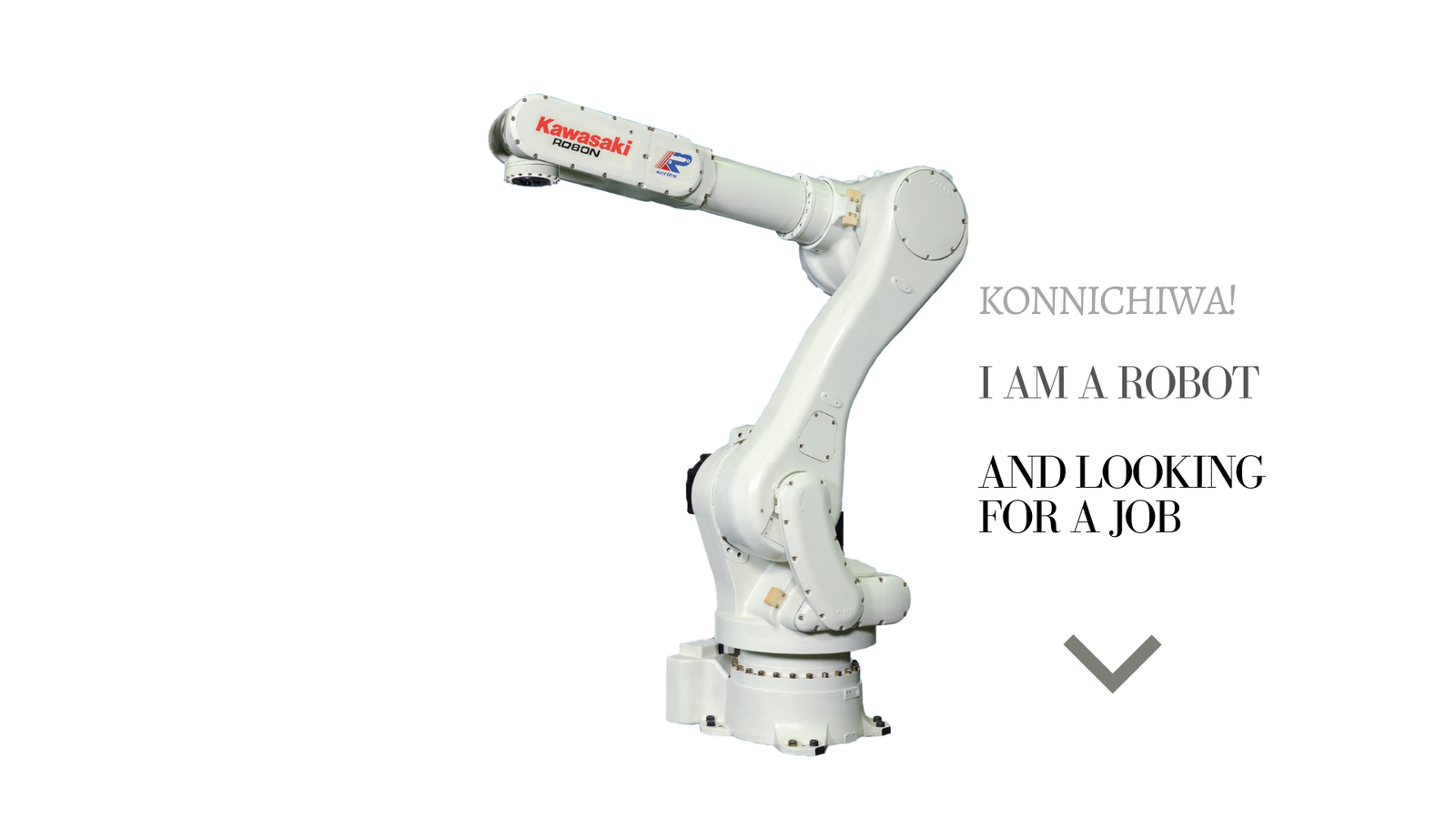 Robots are often described as devices whose outline strongly resemble a human being, moving in calculated and coordinated steps. For some reason, most people are sure that a robot is just a piece of metal, but if they actually meet one, they would probably want to take a closer look at it, touch it and even take a picture of it.
Robots are special in that they can work for hours performing actions that are dangerous, tiresome or boring for humans, e.g. painting, packaging or handling. They continuously repeat the same programmed actions and do no complain.
Today, we present to you the KAWASAKI industrial robot RD080NEE03001-E, or simply REDA. Here is a brief interview that will help you to learn more about it.
Reda, could you please tell us, where do you come from and how did you end up in Lithuania?
 Konnichiwa! (Eng. Hello!)
I was born in Japan but not long after I moved to Europe to seek happiness there. I have lived in Lithuania since 2018 when my relatives from Germany made a deal with the PakMarkas company on the distribution and maintenance services of KAWASAKI industrial robots in Lithuania and Latvia. I am happy to have settled in Lithuania because I see many advanced companies here and cannot wait to start working.
Who are your parents and what did you learn from them?
 Let me start by saying that my parents are the pioneers of robotics in Japan, who now have 50 years of experience in industrial automation. For many years I was continuously developed, improved and taught to become the optimal solution for placing low and medium-weight products on a pallet.
All of this resulted in me:
– having my own digital twin in the virtual world;
– being trained on working with various software for product placement on pallets;
– being prepared and serviced by certified specialists;
– being certified under the CE standard.
Please tell us more about your experience. Our readers are likely hearing about you for the first time, wondering who you are and what actual experience you are talking about.
That's right, I am a newcomer in Lithuania but I am definitely not a novice. My relatives, friends and I regularly share our experience, visit one another, and tell our success stories. People who I have worked with are professionals in their field, they have been working in industrial engineering for many years. Moreover, PakMarkas had quite a few successful projects in their portfolio before I came here.
Can you explain why you consider yourself a unique worker? Why should you be the one hired by the employer?
 Of course, I can! I am unique because:
– I can fit in an area of 7 sq. m due to my very slim body;
– I save electricity thanks to my energy-regeneration function;
– I can work with several lines and different products at the same time;
– I am ready to work 24/7 without holidays and vacation;
– I will adapt to your changing business needs as you grow;
– I will be loyal throughout all my 15 years of life, or maybe even longer.
What kind of work are you looking for?
I am good at lifting loads – I am able to lift up to 80 kg and complete about 450 cycles an hour. At the end of a line, I can stack boxes up to the height of 2 metres.
Where can people learn more about you?
Contact my representatives at PakMarkas UAB, more specifically – Robotics Development Manager Simonas, by emailing him at simonas.bauza@pakmarkas.lt or by phone +37068557931.